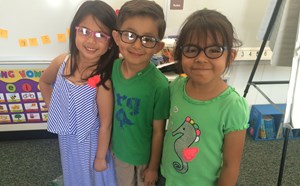 New this year, GGUSD has expanded its transitional kindergarten program to serve more 4-year-olds than ever before. If your child was born between September 2, 2016 through September 1, 2017, please register your child for our free full day kinder…
Principal's Message
Dear Peters K-3 Families,
I am looking forward to yet another exciting year at Peters K-3 Elementary where we strive to prepare all students to become successful and responsible citizens by providing a rigorous and supportive academic experience. Our highly qualified teachers collaborate and plan weekly to ensure students receive the educational experience necessary for life-long success.  Here at Peters K-3 technology is incorporated into daily lessons to enhance student learning by providing the necessary skills our young people will need in tomorrow's world.
At Peters K-3 we also want all learners to develop the personal skills necessary to achieve life-long success.  Our monthly character strength focus areas help students foster relationship skills by developing empathy and embracing diversity along with learning how to strengthen one's self-control, integrity, and grit.
As you know, the amount and type of parental involvement plays a critical role in your child's success.  Parents can get involved in their child's education by taking an active interest in their learning and volunteering in the PTO, parent education opportunities, fundraisers, and various classroom activities.
Kyle Benham, Peters K-3 Principal
You can stay up-to-date with the daily happenings at Peters K-3 by following us on Facebook at Peters K-3 Elementary School or accessing our school's webpage at http://petersk3.ggusd.us.
Our School
Greetings Peters students and families!
We are proud to announce that Peters K-3 is an award-winning school. We have been awarded a California Gold Ribbon School with the help of our hardworking teachers, staff and students! We were also named a California Title I Academic Achievement School as well as a California Distinguished School. Peters K-3 has highly trained educators that set high expectations for students on a daily basis. We are excited to share our current achievements, and look forward to the success of our 632 scholars in attendance. 
Our PTO has monthly meetings with parents and staff to plan successful yearly events. Parents organize fundraisers throughout the school year that help pay for assemblies and field trips. The PTO also supports students, teachers and families to create a positive learning environment. With the help of our participating parents, Peters K-3 establishes a warm, united community.
Peters K-3's yearly events include:
Family Literacy Night
Family Math & Science Night
The free monthly "Farmer's Market"
Our after school enrichment programs strive to teach students the 21st century skills necessary to achieve lifelong success. Here are our programs:
Boys & Girls Club teaches communication and collaboration as students work together in certain activities that require group effort. Participating students compete against other schools in fun activities, enforcing the importance of teamwork and good sportsmanship.
Our STEM Program instructs scholars how to utilize science in the real world. Students work on a plethora of activities in the scientific field to develop awareness and knowledge about it. 
Peters K-3 holds the Red Carpet Awards Assembly at the end of each trimester. Students are awarded for academic, behavioral and attendance achievements. Peters K-3 prides itself on accolading students for every speck of effort and achievement. Our awards serve as motivators for all hardworking scholars.
Parent educational opportunities are available to enhance parent-student relationships in the world of education. Here are our parental programs:
Olive Crest: Common Sense Parenting
Ten Educational Commandments
Nutrition Classes
Through these programs, parents gain a taste of eclectic knowledge regarding student well-being and important matters in education. Our staff strives to instruct parents so that they learn important facts together as a community.
CHOOSE PETERS K-3:
In recent news, Peters K-3 had adapted technology into its modes of teaching, increasing digital literacy among students. We have a 1:1 student-to-device ratio in grades 1-3 to give each student a hands-on experience with coding and internet navigation. 
98% of parents agree or strongly agree that Peters K-3 does a good job communicating with them about their child's academic progress, attendance, and discipline. 95% of students surveyed feel that Peters K-3 is a supportive place to learn.
Students and staff work together on a daily basis to acquire academic opportunities and learn the importance of self-initiation and critical thinking. Our supportive families and community also work hard so that students create unforgettable memories while learning important academic subjects.
Please visit us at our office for any questions, comments or concerns. We are excited to enhance each student's academic experience for a series of lifelong success.